Milky Way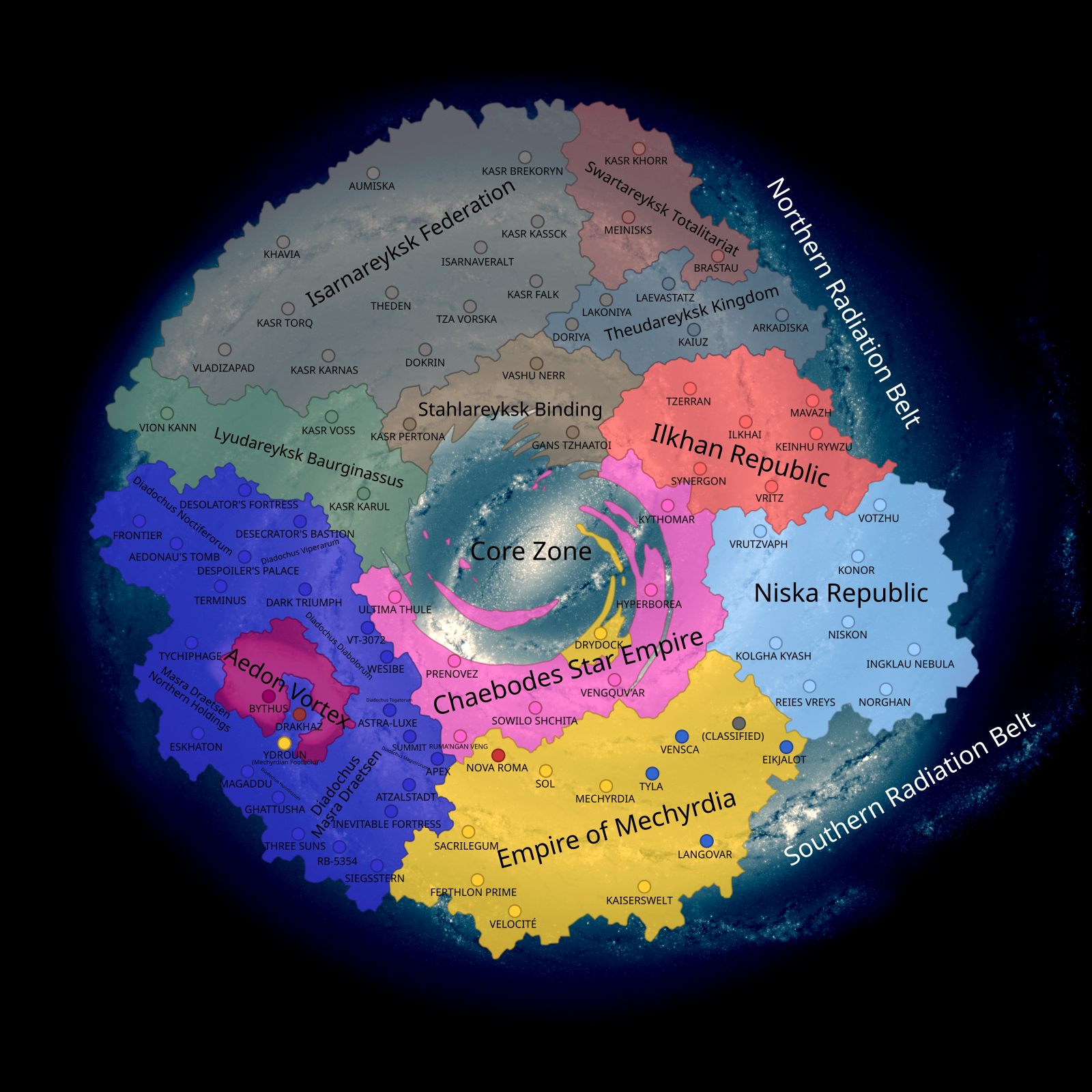 Population

387,520,876,515,719

Homo sapiens

215,638,529,791,695

Tylanus prudens

145,241,480,117,212
Sapient artificial intelligences
26,640,866,606,812
Minor Powers
Mechyrdia-Aligned Alliance
Fulkreyksk Splinter States
Diadochi
Three Civilized Diadochi
Diadochi Raider Tribes
Historical Powers
Flag unknown

Prodroman Realm

Ohrejtóm Sŭe-Ahstróhhom

(lit. Realm of its own stars)

(Hedonism and debauchery created Aedon, an evil god that consumed the Prodromans' souls)

Ilkhan Commune

Ilkhai Džižnugh

(Defeated in

Great Galactic War

, split into Mechyrdian-aligned Ilkhan Republic and Fulkreykk-occupied Ilkhan Potentate)
Remnant States
Ongoing Conflicts
Name
Attackers
Defenders
Situation
Neuia Fulkreykk Rebellion
Isarnareyksk Federation
Neuia Fulkreykk Rebellion
Swartareyksk Totalitariat (material support)
Theudareyksk Kingdom
Ilkhan Republic (material support)
Niska Republic (material support)
Neuia Fulkreykk rebels control the Durya and Lakunya systems, but has made no further advances since 253 UC (2893 AD).
Demeter Ursalia seeks a diplomatic summit with Chancellor Basileiów regarding the legal status of Neuia Fulkreykk.
Southern Diadochi Raids
Diadochus Masra Draetsen
Empire of Mechyrdia
Chaebodes Star Empire
Having intensified during the Pthilnora Chancellory, the raids are starting to quiet down with Marc Adlerówič Basileiów's harsh retaliations and fortifications.
Northern Diadochi Raids
Diadochus Viperarum
Diadochus Diabolorum
Chaebodes Star Empire
Empire of Mechyrdia (material support)
Lyudareyksk Baurginassus
Isarnareyksk Federation (material support)
With the growing threat of the Diadochus Masra Draetsen, the Viperae and Diaboli have become more desperate in their raids.
Mechyrdia-Vestigium War
American Vestigium
Empire of Mechyrdia
The forces of the Vestigium have made themselves more known during the past 8 years, with attacks reaching the highest point in 255 UC (2895 AD) since the American Millennium War in 136 UC (2776 AD).